What Our Customers Say
Throughout our years in business, we've worked with many, many businesses. Read what some of our customers say about our services.
"The results are excellent. You spotted things that I would not have seen. The job was done much earlier than I had specified. I rate the editing a 10."
Simon Payn
ReadytogoNewsletters.com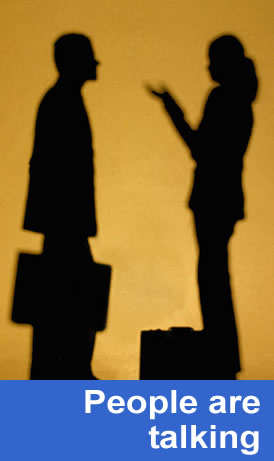 "I am so happy that I found your service and your team consistently goes above and beyond the call of duty...and it is noticed!"
Daniel Merchant
Sr. VP, Member Relations
Association of Energy Services Professionals
www.AESP.org
"I wanted to let you know how grateful I am for the work William and Kimberly did on our series of seven viewbooks. They not only read and revised each viewbook, but also compared each and recognized many breaks in consistency and format across the line. Since I was beyond overwhelmed trying to manage all seven at the same time, I was deeply reassured to know I had such careful and thorough 'extra eyes' in ProofreadNOW. I updated our style guide according to many of their suggestions so it will be easier for us to be more consistent in our initial drafts in the future.
"I also appreciate your honesty in pricing. I'd overestimated every piece I submitted and was pleased to see that we paid less than I anticipated each time. The service I used before I discovered yours was very inconsistent with fee assessment. Sometimes they'd bill us at a per-page rate, and other times they'd bill us at an hourly rate that resulted in fees roughly three times higher. When I questioned the inconsistency, they told me I was lucky for the page-rate 'oversights' and that they should be charging me even more since their service was such a value.

"I'm glad to have found a service I can rely on."
Jill M. Ennis
Marketing Coordinator
Syracuse University Abroad
"Your service definitely met my needs and always meets or exceeds my expectations. You guys add huge value to my work and I would definitely recommend you. Not sure what I can say about improvements--you guys get text back to me really fast, and the comments and things you catch are really helpful. Love you guys!"
Mark Klimek
CEG Worldwide
"I think the service is outstanding. As a freelance copywriter, I rely on your service for all my proofreading requirements and I have recommended you to many of my clients. The service is easy to use, reliable and highly professional. Two proofreaders on every job is a huge benefit. And, I can submit jobs any time of the day or night...perfect for writers like me who work at night and on weekends."
Bonnie O'Connor
Freelance Copywriter
"I tried your service for the first time last week and it is amazing! I was so impressed with the speed and quality of the work. I am a busy independent marketing communications consultant and to have this service available is terrific for my business!"
Melissa Milar
Marketing Communications Consultant
703.382.3250
melmilar @ cox.net
"Thanks for your great work! I am so thrilled with your service - and I look forward to using you for all my projects in the future."
Name withheld due to corporate policy
Major Northeastern Insurance Company
"You guys had a great turnaround time. Your work was excellent and I'll plan to use you in the future!"
Jonathan Hobbs
SouthStar Funding
"I submitted another job last night and I was so impressed that it was in my e-mail inbox when I got in this morning; and you even checked the website links. The comments were very helpful. We are impressed, and we plan to use your service again."
Liz Beckmann
Minn. Society of CPAs
"Your proofreaders made an unbelievable catch on a Stoneyard data sheet yesterday, going to the Web site to find the correct description of some dimensions. Great work!"
Gene Bellotti
for Stoneyard.com
"Yes, yes, yes. I would have to rate every single proofing job that I have submitted to this service as 'outstanding.' Your proofers catch EVERYTHING. Best of all, I often learn something from their comments, and I've been a professional writer for over a decade. Using this service has actually helped me become better at my craft."
Trish Johnston
Freelance Writer
"Please let me begin by saying that we are very pleased with your service! It's timely, thorough, and so reliable, not to mention, a great price! In addition, your tech support is friendly and helpful. I rate the value of this service, on a scale of 1 to 10, a 10 - but that's not high enough! It was not just valuable, but indispensable. You checked websites for spelling standards, you checked consistency on e-mail domains - WOW! Am I satisfied with the results of your service? Yes, very much so."
Sarah Nichols
a New England design agency
"Strong service! Owner is at the top of his game, and I appreciate him working with me on issues I have had in the past."
Scott Davis
Software Link
"I couldn't live without it!"
Andrew Greenblatt
NCC USA
"The editing is excellent. It seems to be very consistent among all the documents I have ran thru ProofreadNOW."
Sharon Mills
DoBetterDeals.com
Orlando, Florida
"I'd just like to say thanks for this job! The corrections were great and rather than just having my work corrected, it felt as though I was in a lesson on how to write better. I really learned a lot from the comments made. God bless you all!"
Nancy
UCKG Church
London, England
"10 - 10 - 10 - 10 - 10!"
Jessica Devine
Kronos
Chelmsford, Mass.
"We are very happy with your service. As you might know, I'm a professor, and in that capacity, I have students write papers. I regularly tell them about your service (I require APA papers, and so do my colleagues). I don't know if they can afford your services, but I tell them you're the best -- the ultimate authority on APA, grammar, and writing style."
Patricia Kearney
Department of Communication Studies
California State University at Long Beach
"ProofreadNOW is one of the most valuable resources we have. Period.
"Unlike proofreaders of the past, this team of professionals is fast and perfect, and they have joined our marketing efforts as partners, not merely another vendor.
"Whether it's an important email, press release, brochure, advertisement, or a 72-page annual report with kazillions of numbers, tables, graphs, and indexes (in both English and Spanish), ProofreadNOW handles it quickly, intelligently, and with the technology that we require. Every time.
"If you're a new customer, try them... you'll like them. If you're an existing customer... why haven't you written a testimonial yet?"
Bill Purdin
President & Creative Director
Legend, Inc. and legendinc.com
Advertising
"We are so glad that we found your service and have had a great experience so far. The service we've received as yet has been wonderful - it's very rare to find good, quality service these days and it is appreciated."
Danielle Garland
Creative Energy
Advertising
"I think your service deserves an A+ -- I've used lots of proofreaders (and do some proofreading myself) and nowhere else would I get the total confidence of an error-free document that I get at ProofreadNOW.com...I plan to use you as much as possible and would certainly recommend you to colleagues and associates."
Fern Dickey, CMP
BackBurner Projects, LLC

Buy Fern's book!

"ProofreadNOW.com is the most awesome tool we've ever seen!"
Marketing VP, Boston investment bank
"We're a huge fan of ProofreadNOW. Our company writes, designs and produces custom newsletters for various companies and organizations including major names in the retail, service and not-for-profit sectors. We build ProofreadNOW's service directly into our offering, and actively promote it as a value-added resource. Professional proofreading is important to both our clients and our own company -- if they look bad, we look bad. ProofreadNOW reviews all final copy to ensure that the content is free from grammar, style or typographical errors -- so our product is as good as we can make it."
Jim Palmer,
Dynamic Communication
"The [Spanish] copy editor was fabulous. Please reserve her for us! "
Gabriela Goddard
AARP
Editor, AARP's Segunda Juventud
"I am very pleased with the quality and timeliness of your company's work. I have been writing newsletters for 10 years and have been very dissatisfied with my ability to find competent proofreaders who can deliver an accurate product in a timely and cost-effective manner. This is a great service. I'm glad I found you. (I got your name from the NEPA brochure.)
"Call me your newest fan and I will highly recommend your service to all. Very nice job!"
Bob Coleman
Coleman Publishing
http://www.colemanreport.com/

"We are first time users of your service and had a good experience using it. I estimate that it saved us anywhere from 8-12 hours of our internal editing and grammar checking. I expect us to continue using your services for other articles/newsletters we publish."
Editor
Major law firm newsletter
"I was so impressed with your customer service, and now that I have signed up, logged in and downloaded my job, I am just even more thrilled. Wonderful! Wonderful! What a great service! Many thanks!"
Publications Manager
Graland Country Day School
Denver, Colorado
http://www.graland.org/
"ProofreadNOW.com has changed my life! No longer do I live in fear of typos. I haven't had one since I started using their service. It's easy to use, always available, and very affordable."
Terry Nugent, Director of Marketing
Medical Marketing Service, Inc.
AMA License Database Licensee
http://www.mmslists.com/
"Your suggestions were great! We are very happy with your work."
Marketing Director, The Advertising Council
"I truly value your service. I used to spend hours poring over our newsletter in search of errors, and would inevitably miss something. It's great to have you folks to relieve me of some of that time-consuming work."
Marketing Specialist, American Cancer Society
"ProofreadNOW.com saved us $25,000 in re-print costs the first day we used them. We thought our document was camera-ready, but it wasn't!"
Marketing Director, major Boston law firm
"You do good work. We look forward to working with you again."
Marketing Manager
Major California fund-raising firm
"I love the concept and the results of ProofreadNOW.com! We send them a document at 11:30am, and we have it fully proofread by the time we return from lunch! What could be better?"
Designer, NYC advertising firm
"thanx. really good job."
Production manager of a famous furniture catalog
(a grammatically challenged one at that!)