How to Submit Documents for Proofreading, Copyediting, or Translation
It's easy! Follow these steps to making your document clear, elegant, and error-free:
Create your account. You do this only once, by clicking the 'Create NewAccount' button in the left column of every page.

We ask for minimal information, just enough to carry through with the transaction. No information from our site is EVER transmitted to anyone else, for any purpose whatsoever.
what format the document is, e.g., MS Word, PDF, PowerPoint, etc.
what level of proofreading you want
a little about the document; is it medical? legal? financial? engineering?
how many pages it is
and when you want it back, e.g., one hour? two hours? tomorrow? a week?
Open your document on your hard drive with our handy 'Browse' button.

Click 'Submit'! That's it!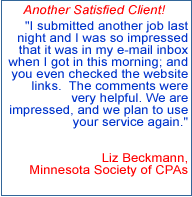 We begin to process your document immediately.
Our proofreaders follow your instructions and give the document the service level you requested. We find all spelling and grammar errors, typographical mistakes, and punctuation problems. Then we evaluate every sentence and paragraph for clarity. We can even improve the writing style if you want us to.
When we're finished, our server sends you an e-mail message with a live link.
Click on the link, log onto our server, and download the file to your hard drive.
If it is a Microsoft Word document, our changes are redlined and ready for you to accept or reject (pull down on Tools, track changes, accept or reject...).
If your document is a PDF file, we annotate the file with our suggestions. You can then read our suggestions and apply them to your original file.
If your document is in another format, we return a text file with our citations about the document. Use this file as you make adjustments to your document.
To get started now, click on the button below!