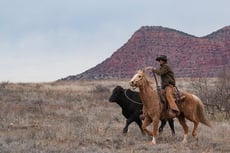 On September 25, 1867, the pioneering cattleman Oliver Loving died from gangrene poisoning in Fort Sumner, New Mexico. A few weeks before, Loving had been trapped by 500 Comanche braves along the Pecos River. Shot in the arm and side, Loving managed to escape and reach Fort Sumner. Though the wounds alone were not fatal, Loving soon developed gangrene in his arm, a common infection in the days before antibiotics. Sometimes referred to as the "Dean of the Trail Drivers," Loving had been braving the Comanche territory along the Pecos in order to make his second pioneering drive of cattle from Texas to Denver.
Loving and his partner Charles Goodnight proposed to drive a herd of cattle directly to the growing population centers in New Mexico and Colorado where they could avoid middlemen and earn higher prices per head. The result was the Goodnight-Loving Trail, a 700-mile route through west Texas and New Mexico that eventually brought the cattle right into the booming mining regions of Colorado.
Okay, tenderfoot… head 'em up and move 'em out. Let's see how you round up today's word herd and how you rate in the table below the quiz.
How did you score?
| | |
| --- | --- |
| # Correct | Your Rating |
| 0 to 1 | cow pie |
| 2 | cowlick |
| 3 to 5 | cowbell |
| 6 to 8 | cowherd |
| 9 | cowpoke |
| 10 | cowboy/cowgirl (all-around) |
Text source: history.com; definition source: Merriam-Webster 11th Collegiate Dictionary