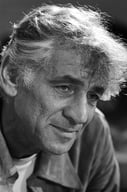 On September 26, 1957, West Side Story, composed by Leonard Bernstein, opened at the Winter Garden Theatre on Broadway. For the groundbreaking musical, Bernstein provided a propulsive and rhapsodic score that many celebrate as his greatest achievement as a composer. However, even without the triumph of West Side Story, Bernstein's place in musical history was firmly established. In addition to his work as a composer, the "Renaissance man of music" excelled as a conductor, a concert pianist, and a teacher who brought classical music to the masses.
See if you wax rhapsodic in today's word quiz.
Where does your score put you?
| | |
| --- | --- |
| Score | Your Ranking |
| 10 | Leader of the Gang |
| 8-9 | You're a Jet for sure |
| 5-7 | You're one of the Anybodys |
| 2-4 | You're Officer Krupke |
| 0-1 | You're just a Shark |