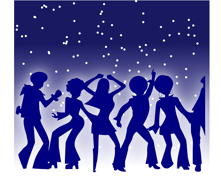 On this day in 1931, gangster Al Capone was sentenced to 11 years in prison for tax evasion and fined $80,000, signaling the downfall of one of the most notorious criminals of the 1920s and 1930s. On this day in 1835, Texans approved a resolution to create the Texas Rangers, a corps of armed and mounted lawmen designed to "range and guard the frontier between the Brazos and Trinity Rivers." In 1960, The Drifters topped the U.S. pop charts with "Save the Last Dance for Me."
How will you score on this week's quiz?
A life sublime or a life of (word) crime?
| | |
| --- | --- |
| Score | Rank Yourself |
| All 10 | Dancing King/Queen |
| 7-9 | I could (almost) waltz across Texas with you |
| 4-6 | The eyes of Texas are upon you |
| 2-3 | One-to-five at Sing Sing |
| 0-1 | Lifetime at Alcatraz |
Intro text: history.com
Definitions: Merriam-Webster 11th Collegiate Dictionary