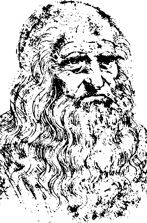 On this day in 1980, American oil tycoon Armand Hammer paid $5,126,000 at auction for a notebook containing writings by the legendary artist Leonardo da Vinci. The manuscript, written around 1508, was one of some 30 similar books da Vinci produced during his lifetime on a variety of subjects. It contained 72 loose pages featuring some 300 notes and detailed drawings, all relating to the common theme of water and how it moved. On this day in 2000, General Motors declared that it would begin to phase out the 103-year-old Oldsmobile, the oldest automotive brand in the United States. (But that's not why it was called OLDS-mobile.) And on this day in 1901, Italian physicist and radio pioneer Guglielmo Marconi succeeded in sending the first radio transmission across the Atlantic Ocean, disproving detractors who told him that the curvature of the earth would limit transmission to 200 miles or less. The message–simply the Morse-code signal for the letter "s"–traveled more than 2,000 miles from Poldhu in Cornwall, England, to Newfoundland, Canada.
Let's see what YOU'RE worth, how old you are, and how far you can go with today's vocabulary quiz.
Where do you rate with ProofreadNOW.com?
| | |
| --- | --- |
| Score | Your Rating |
| All 10 | LdV painted you on the flipside of Mona's canvas |
| 7-9 | You're probably famous on the radio anyway |
| 4-6 | You're coming in, just not loud and clear |
| 2-3 | Sorry, no baking soda brand named for you |
| 0-1 | You'll get 5 cents for your notebook, assuming all pages are still blank |
Intro text: history.com
Definitions: Merriam-Webster 11th Collegiate Dictionary