Titles of people in positions of authority are among the most inconsistent terms we see in all the documents we proof and edit for our clients. Sure, readers are not dumb, and they'll know whom you're referring to when you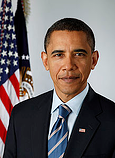 write "We saw the President boarding Air Force One" or "The secretary of State used to teach at Stanford." But there
are
established standards, and following those standards tells your readers that you are thoughtful, knowledgeable, and precise. So, before you write your next letter to the president, check out what the
Chicago Manual of Style
prescribes for these civil titles.
the president; George Washington, first president of the United States; President Ford; the presidency; presidential; the Taft administration; Chandrika Kumaratunga, president of Sri Lanka; President Kumaratunga or Mrs. Kumaratunga
the vice president; Joseph Biden, vice president of the United States; Vice President Biden; vice-presidential duties; Jorge Quiroga, vice president of Bolivia; Vice President Quiroga
the secretary of state; Hillary Rodham Clinton, secretary of state; Secretary of State Clinton or Secretary Clinton
the senator; the senator from West Virginia; Senator Robert C. Byrd; Senators Byrd and Trent; Sen. John Glenn, Democrat from Ohio (or D-OH)
the representative; the congressman; the congresswoman; Henry Hyde, representative from Illinois or congressman from Illinois; Congressman Hyde or Rep. Henry Hyde (R-IL) or Rep. Henry Hyde (R-Ill.); Maxine Waters, representative from California; Congresswoman Waters; the congresswoman or the representative; Representatives Hyde and Waters
the Speaker; John Boehner, Speaker of the House of Representatives; Speaker Boehner (Speaker is traditionally capitalized)
the chief justice; [the late] William H. Rehnquist, chief justice of the United States; Chief Justice Rehnquist
the associate justice; Antonin Kennedy, associate justice; Justice Kennedy; Justices Kennedy and Thomas
the chief judge; Henry Tonigan, chief judge; Judge Tonigan
the ambassador; Philip Lader, ambassador to the Court of St. James's or ambassador to the United Kingdom; Ambassador Lader
the governor; Ruth Ann Minner, governor of the state of Delaware; Governor Minner
the mayor; Rahm Emanuel, mayor of Chicago; Mayor Emanuel
the state senator; Olga Parker, Ohio state senator; the Honorable Olga Parker
the state representative (same pattern as state senator)
the governor-general of Canada; the Right Honourable David Johnston
the minister; Motohisa Furukawa, Japanese economics minister; Mr. Furukawa
the prime minister; the Right Honourable Pierre Elliott Trudeau, former prime minister of Canada; David Cameron, the British prime minister
the premier (of a Canadian province); the Right Honourable Roy Romanow
the member of Parliament (UK and Canada); Jane Doe, member of Parliament or, more commonly, Jane Doe, MP (not used as a title preceding the name); Jane Doe, the member for West Hamage
the chief whip; Tony Yengeni, chief whip of the African National Congress; Yengini
the foreign secretary (UK); the foreign minister (other nations); the British foreign secretary; the German foreign minister (not used as a title preceding the name)
the chancellor;

Angela

Merkel

, chancellor of Germany; Chancellor Merkel
the chancellor of the exchequer (UK);

George Osborne

; Chancellor Osborne
the Lord Privy Seal (UK; always capitalized)
Note that some company style sheets make the president of the United States an exception: "The President went to New Orleans today." That's fine; just be consistent!