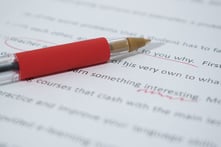 Professional proofreaders work hard to carefully examine every detail in your written work. They scan it multiple times to fix typos, grammar errors and spelling mistakes, and to ensure that it's consistent in style and voice. But sometimes, especially if you have someone editing your writing, you may think that it's okay to skip hiring a proofreader and save the time and money. If more than one set of eyes has scanned your work, then it should be good to go, right? Well … not exactly. Editors are certainly valuable and can fix and point out certain errors in your writing, but they aren't trained to do the same things that proofreaders do. (Read Editor or Proofreader: Who Does What? to learn more about that.)
Before becoming convinced that you can forgo hiring a proofreader for your writing, you should consider what you're writing first and whether it requires the attention and care that a proofreader will assign to it.
Listed below are six types of writing you should always want a proofreader to review.