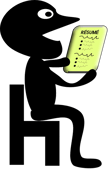 Nearly everyone has to write a resume at some point, and our editors tackle a fair number of them on a regular basis. Most of our customers simply want us to check for errors (a good thing!), but we've seen more than a few that would benefit from an overhaul. That's because the majority, by far, are formatted traditionally, listing work experience in reverse chronological order, with an accompanying description of job duties for each position.
Is a Skills-Based Resume Right for You?
The traditional resume format works if you have a long-term work history in the same or similar careers. In other circumstances, a skills-based resume — which emphasizes the multifaceted nature of your experience and abilities — might be a better option, especially if you:
Are just starting out and have little to no work experience.
Are looking to change careers or industries in which your past job titles aren't relevant.
Have worked in a number of short-term positions or temporary assignments.
Have significant gaps in your work history.
Have held positions with similar responsibilities such that repeating them under each job title seems redundant.
A friend who recently asked me to review her resume was looking to change careers. She had a lengthy stint in marketing early on, a couple of similar administrative positions in routing/scheduling (resulting in redundant job descriptions), a gap in employment and some short-term "filler" work to pay the bills while she looked for a more permanent position — all outlined in her traditionally formatted three-page resume. She was applying for a position that called for many of the skills she had but with a job title that resembled none of those she'd held. Enter the skills-based resume.
How to Create a Skills-Based Resume
Creating a skills-based resume that delineates all your skills is a useful starting point. Then you can pick and choose from that master copy to tailor a resume to the requirements of each position you apply for. Start with a section titled "Professional Skills and Abilities" that contains subsections for each category, which you'll define below.
1. Define your skills. On a copy of your current resume (if you have one), use different colors to highlight related skills and experience. If you don't have a resume, begin by listing all your skills and experience and then grouping related ones. Whatever those skills have in common will likely be your category heading. Common categories include leadership, project management, communication, and organizational skills, but use whatever makes sense based on your experience and the position you're applying for. My friend's skills naturally fell into these categories: scheduling/routing, administrative, management, networking/relationship building, and marketing.
2. Highlight your experience and accomplishments. Beneath each category heading, draft concise bulleted items that convey your experience in that area, and back up those claims when you can with specific (and, if possible, quantifiable) results. Here's one example of a management skill and accomplishment on my friend's resume (which might be better categorized as a bookkeeping or accounting skill on another's resume):
Managed company payroll and A/R, which included establishing and reconciling monthly budgets, invoicing, validating hours worked by technicians, following up on lost invoices, and collecting on overdue payments as required. Increased collections by more than 30 percent in the first year alone.
Consult any of the hundreds of online resources for specifics about the kind of language, keywords, layout, etc. to use for the greatest impact, and, of course, tailor your language to the specifics of the job you're applying for.
Although my friend's master resume included an extensive section on marketing, the position she was applying for involved no marketing at all, so we omitted that section in the resume tailored for that job. Remember, the most important function of a resume is to enable a prospective employer to quickly and easily determine whether you're a good fit for the position.
3. Summarize work history. List company name, city and state, job title and employment dates in reverse chronological order under a "Work History" heading (one line per company). If you've had large gaps in your history, omit the employment dates and title this section something like "Work History Overview." Include relevant volunteer experience or internships.
4. Include an education section if relevant or important. Again, let the position you're applying for guide what and how much information you include.
5. Omit references unless specifically requested. If employers don't ask you to supply references up front, they'll likely ask for them later. No need to say "references available upon request," because it's a given (but make sure you have a list available when asked).
Don't Bother with Proofreading
That's right … if you want to get your resume noticed, don't have it professionally proofread. Chances are, you'll end up with at least one typo, grammatical error or other blunder (like these) that will certainly get you noticed, but probably not in the way you'd like.
Would you ever list these skills on your resume: lack attention to detail, sloppy, unconcerned with quality? Of course not. But submitting a resume without having it professionally reviewed has the same effect.
Whether you've opted to craft a skills-based version or to go with a more traditional style, the editors at ProofreadNOW.com will ensure your resume is error-free to help you get noticed … in a good way. Click here to learn more.