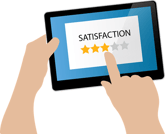 What Do You Want to Read About on Our Blog?
Whether you're a new visitor to our blog (welcome!) or have been reading our blog posts every week for years, you're invited to take this quick survey.
We want to learn more about our readers and want to continue to write about things that are relevant to you and what you care about most.
Thanks for completing our survey!
P.S. If this is your first visit to our blog, don't forget to subscribe to our blog to see what's next. And be sure to check out our free e-books and white papers too.