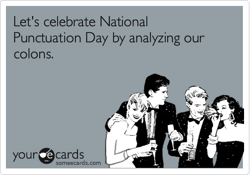 In honor of National Punctuation Day today (really!), we're giving you the opportunity to test your proofreading knowledge with a little quiz. In addition to punctuation, it covers grammar, clarity, accuracy and many other errors we've talked about in this blog.
The five numbered paragraphs below contain numerous errors (indicated in parentheses at the end of each paragraph). All are unequivocally wrong. Acceptable variations — such as words with different spellings (e.g., advisor, adviser) or sentences that could be punctuated correctly multiple ways — are not included.
Indicate how you would correct the following by providing a corrected version, or do like our editors do and use Word's Track Changes and Comments features:
1. Should athletes, pro and amatuer alike, be submitted to out-of-competition testing for steroids? Many sport governing bodies say, "yes." In fact they assert that such testing an occur any time and any place — at work, home, practice, the gym, in class—for athletes ranked among the best in their sport world-wide. However, athletes should be aware that some medications proscribed to treat legitimate medical conditions could have the potential to enhance athletic performance and thus are inhibited. (14 errors)
2. A campus police officers arrest for murder in the death of a driver during a traffic stop raises the question of weather campus police should be in the business of law enforcement at all. The shooting happened about half-a-mile from campus when the officer, Les Ismore, pulled over Justin Tyme for a missing front licence plate. When Tyme, whom wasn't a student, refused to get out of the car, Issmore shot him once in the head. He was fired and has plead not guilty. His lawyer says he feared for his life. University president Marco Polo said campus officers receive a "robust" training regime, and those hired face background checks, poly graph tests, home visits and psychology screening. (14 errors)
3. Politicians and interested parties are at lagerheads over the proposed Fare BEER act; which would provide brewers and import producers some relief from the federal excise tax. While acknowledging the appeal of the tax relief, some parts of the act arent' so fair, says Bru Pilsner, head of the Brewers Association: "Where we go different ways is that the BEER Act also gives tax relief to companies that in some cases are not making any beer here. A similar proposal, the Small BREW Act, aims to only cut the federal exercise tax for small brewers. Both bills reportedly have little change of being considered unless their included in boarder tax reform legislation. (14 errors)
4. Nemurs Children's Hospital is part of the 560-acre medical city in Lake Nona, Florida. It provides pediatric speciality care never before offered in central Florida, along with the area's only 24 hour emergency department designed just for kids. Our very unique services include the only peds pain management, interventional radiology and arthritis treatment services in the region. They have pioneered innovative pediatric research which has lead to break-throughs and reduces suffering for our young patients and families. Our board-certified specialists have come from top hospitals across the county because they share our desire to create a pediatric health care facility that empowers patients and they're caregivers. (17 errors)
5. Cal Ward dodged paying his own taxes 45 times while calling four large tax breaks for millionaires like himself. He recently voted to give the wealthy an extra $40,000 dollars in tax breaks instead of giving lower-income residence and families a much-needed life line. And while Warden voted against our families, he consistently voted on the sides of big buisnesses. He stuffed the wallets of millionaires but pitched pennies when it came to woman's clinics, improving our failing schools & helping Calif. families. The reason why you shouldn't vote for him? He looks out for his own whilst leaving the rest of us behind. (14 errors )
***
Email your answers, either in the body of your email or as a Word or PDF attachment, to info@ProofreadNOW.com. Be sure to put "PRN Quiz" in the subject line of your email. Please do not put your answers into the comments field for everyone else to see. ProofreadNOW.com editors, employees and their relatives don't get to play.
Whoever submits the entry with the most correct answers will receive a $25 Amazon gift card. In the event of a tie, whichever of those entries was submitted first will win. The contest runs until 6 p.m. ET on September 28. We'll publish the answers and explanations and announce the winner in our post next week. Good luck!