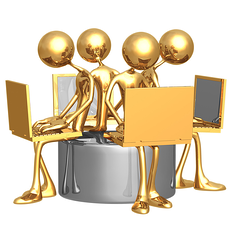 Whether writing web copy, an annual report, a proposal, email, or a marketing brochure, all of us want our written business communications to be clear and concise. Most important, we want them to be read! Ambiguity that causes confusion or missed errors can detract from our company's credibility and distract readers from getting the message we're delivering. If we make mistakes, many readers will simply put our message aside and go on to their next task. Today, we'd like to offer three simple tips to improve your written business communications:
1. Spell Check
Just about every word processor has a built-in spell check capability, but we often see spelling errors in business communications, especially in blog posts, website pages, and emails. Many of these could be avoided simply by using the spell checking capability. Be sure to run your document through the spell checker before you print it, post it, or send it. The time you think you don't need to do this will be the time you have a big sloppy mistake your readers will laugh at.
2. Watch Your Punctuation
Improper punctuation can change the entire meaning of a sentence.
Here's an example
I found on FactMonster.com that illustrates how punctuation affects meaning. I know this may be an extreme example, but you get my point!
3. Know Your Audience
Some documents, like blog posts, can be written in a more conversational and engaging style. Other documents, like annual reports or sales proposals, require a more formal style with all of your i's dotted and t's crossed (and yes, you do pluralize some things with apostrophes). Know your audience and take the proper care to be sure your writing style fits.