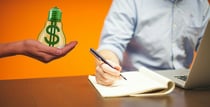 According to information parsed by the U.S. Bureau of Labor Statistics, there will be little to no change for editorial occupations in the next few years. So, landing an editorial or proofreading position in 2019 wouldn't be a bad career move, whether you're just starting out or are already well-established in the industry.
One thing to keep in mind, however, is that there will be more competition for traditional editorial roles for job seekers who want to work for well-established print publications, due to the rise of online media publications and online media consumption—which means that you'll still want to make sure you stand out against other job candidates. And whether you're a beginner or an established editorial professional, there are a few things you can do to set yourself apart from the competition.
Here are some things you'll want to consider doing if you're interested in landing an editorial or proofreading job this year, whether you're a beginner or a pro.
Attain Additional Credentials
Most editors and proofreaders have at least a bachelor's degree in communications, journalism, or English from an accredited university.
There are also options for professionals to receive certifications in editing and proofreading through accredited universities and via reputable online entities. However, these certification programs are typically only ideal for already established professionals who want to bolster their existing credentials. For instance, someone who has credentials in pharmacology might want to learn more about editing or proofreading research and written materials within the field of pharmacology, so they'll earn a certificate in editing and proofreading. Or someone who has been an editor or proofreader for print publications for a decade might want to refresh what they already know and learn about emerging practices, tools, and software used in their existing editorial profession. And so on.
Seek an Internship
Contrary to popular belief, all internships aren't just for current undergraduate college students or recent college graduates. There are a multitude of different internships out there for individuals at different career stages, especially for editors and proofreaders. And they offer great real-life opportunities for professionals to practice their editing and proofreading skills.
If you're new to the world of editing, landing an editorial internship position will help you gain the experience typically required of any full-time or part-time editing or proofreading role. And if you're a well-established editor or proofreader, landing an internship position would be ideal too. This is especially true you're trying to make the transition from editing for online publications to editing for well-established print publications.
Look for a Mentor
Regardless of your field or profession, having a professional mentor is a great idea. He or she can teach you "tricks of the trade," can help you further develop your strengths, minimize your weaknesses, and will be able to connect you with other professionals within your industry.
It's also important to note that you can seek different types of mentors too. If you're a novice, then you will likely want to seek a master mentor; someone who can help you develop your editing and proofreading skills. And well-established professionals can still benefit from peer-mentor relationships with other well-established editorial professionals with whom they can discuss relevant topics, swap best practices and job leads, etc.
Build an Online Presence
All prospective job candidates, regardless of their industries or professions, can benefit from building and maintaining online portfolios of work in 2019, as well as a substantial online presence.
According to experts, more and more job candidates will use personal websites and digital tools when applying for work in 2019 and beyond, and the paper resume will start to die out and will soon no longer be used in the job application process. So, if you want to stand out online in 2019 as an editorial job applicant, you'll want to find a way to display your story as a job candidate in an interesting way via online mediums such as a personal website, an online work portfolio, etc.
Research Companies, Publications, and Job Requirements
Most editorial job applicants don't land the jobs they think they want, because they don't research organizations before applying, or they don't apply for the positions that are most relevant to their backgrounds. And believe it or not, both novices and well-established professionals are guilty of missing this step during the application process.
If you want to work for an online newspaper, for instance, make sure you are applying to online newspapers. And if you have a background in technology, you'll most likely be more qualified for editorial positions with entities that publish material about technology. And so on.
In addition, many job applicants still aren't sure what the differences between editing, proofreading, and copy editing are. Make sure you know these differences and what the requirements for each role are before you apply for any editorial-based role. Read Editor or Proofreader: Who Does What? for more insight.
Network Online and In Person
According to research, nearly 85 percent of all jobs are filled via networking. If you want to land a new editing or proofreading position in 2019, connect with other professionals inside your desired industry in person and online. Become more active in groups on platforms like LinkedIn, and attend more seminars and conferences, etc.
Be Open to Remote Freelance and Contract Work
If you want to be an editor or proofreader in 2019, you'll want to consider remote positions that are part-time or entail freelance or contract-based work. More employers are allowing and encouraging editors and proofreaders to work from home. They're also hiring professionals on a per-project basis because it is easy for editors and proofreaders to work remotely via internet connections, and it's more cost-effective for employers.
We at ProofreadNOW.com are often looking for experienced proofreaders to join our team. Be sure to sign up for our email list to be notified when we are looking for team members.
Do you have any other suggestions to help those who are seeking a new editing or proofreading position in 2019? Please share them with us in the comments below. And be sure to share this post with others who might be interested in landing a new role in 2019, too!