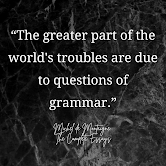 Looking for an easy, incredible return on investment for your business writing? You don't need exhaustive grammar lessons or online courses to up your game and capture your audience. You need 5 minutes. We've gathered our top writing tips, based on the errors we most commonly correct for our clients.
First, check out Part 1, here.
Homographs and Easily Confused Words
Words that are spelled differently, sound similar/identical, and have different meanings are called homographs. We often see one used in place of another.
Examples include accept and except, insure and ensure, compliment and complement, piece and peace, principal and principle.
However, there are other words with such similar spellings that they're easily confused, like contact and contract, form and from, casual and causal.
Speedy typing is usually the culprit. Keep an eye out for homographs that trip you up or commonly used words in your industry that, with a letter or two switched, take on a whole new meaning.
Use "that" when what follows is necessary to understand the sentence/context. Use "which" when what follows could be removed without affecting the meaning of the sentence.
For example: The file that I need is saved on the cloud. The white paper, which I wrote in a hammock on the beach in about 25 minutes, failed to impress my boss.
See how you could take the parenthetical out of the second sentence and still have the same meaning (with fewer details)?
Need it: that. Could do without: which.
Note: This explanation applies to North American English; in the U.K., there is greater flexibility in these usages.