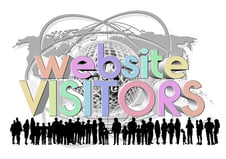 Did you know that a website visitor will read on average only between 20% and 28% of the content that's on your website? And that's if they enjoy reading your copy. If your visitors don't enjoy reading your copy, the amount of it they will read is much, much lower, and so is the amount of time they'll spend on your website.
The less time visitors spend on your website reading and engaging with its content, the less likely they are to turn into subscribers, paying customers, clients, or partners.
Understanding the real-world impacts of poorly written web copy is essential in 2018, especially if you write copy for a website or manage content for one.
What Happens When You Have Poorly Written Web Copy
Here are some of the more notable problems you'll experience when your website has poorly written web copy.
You'll lose your online credibility
If your web copy doesn't speak directly to its target audience (i.e., your ideal customers and subscribers) and what they care about, your website will not remain a credible online source.
More importantly, if your web copy isn't structured properly or is riddled with grammatical and spelling mistakes, you'll lose your credibility as a business or online resource within seconds. According to research parsed by Business.com, you have seven seconds to make a good first impression when meeting a new business acquaintance in person, but only about 0.2 seconds online.
So, not only does your website have to be designed so that it's visually appealing and relevant to your target audience, but its copy needs to be direct, well written, and free of grammatical errors and typos. Otherwise, people will get a bad impression of your website and its content and will abandon it within seconds.
You'll bore your audience
If your web copy isn't engaging, doesn't tell a unique story about you or your organization, or contains long-winded, vague, redundant, and irrelevant copy, your website visitors will get bored and abandon the site within a few seconds.
You'll lose potential business and an engaged audience
Ultimately, poorly written web copy will cause you to lose online business and an engaged online audience. If you don't immediately establish trust and credibility with your readers, they will quickly abandon your website. And the chances of them ever returning to it are slim or nonexistent. Why would people want to visit a website they once deemed as subpar, untrustworthy, and boring when they have thousands of other websites at their fingertips to choose from at any given second?
Examples and Signs of Poorly Written Web Copy
View this post published by Web Designer Depot and this post published by Neil Patel, founder of Kissmetrics, for real-world examples of poorly written web copy. Web copy that's poorly written usually suffers from one or more of the following major blunders:
It's self-centered and never addresses its target audience or customers and what they care about.
It's feature-centered and full of facts and figures, but never addresses benefits surrounding a product or service.
It's long-winded and has large paragraphs of dense text.
It's riddled with grammatical errors and typos.
It's overly formal and stiff.
It's too vague, never gets to the point, or has no available evidence to back up its claims.
It contains too many adjectives, adverbs, or clichés, and has too much jargon or a lot of unnecessary emotive language.
Tips to Avoid Poorly Written Web Copy
If you want your website visitors to read more than 28% of your web copy, here are some tips to keep in mind.
Do extensive research on your target website audience, and get to really know how they think, what type of language they use, and what they care about. Then write your web copy as if you're speaking directly to them and what they care about.
Write your web copy for people who scan. Research has shown that website visitors read content on your website in a certain way—in an F-shaped pattern. To make it easier for them to scan your copy, use bulleted lists, break up longer paragraphs of text, use bolded subheads, etc.
Optimize your copy for search engines after you've written it for your target audience and what they care about, so that it sounds natural. Note: Chances are good that if you're writing copy geared toward your target audience already, it will have most of the keywords in it that you need to use, so don't ever try to stuff keywords into your web copy.
Hire a proofreader to verify that your web copy is free of typos or grammatical errors.
Do you have any tips for how to improve poorly written web copy, that could be added to the list above? Or do you have a web copy blunder of your own to share with us? If so, be sure to leave a comment below.