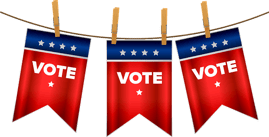 We are blown away by the number of our readers who submitted their entries for our completely bogus Tagline Contest. We received many, many submissions and our staff had a difficult time selecting the top five. In fact, because there were three taglines that tied for fifth, you'll have seven taglines to choose from to pick our winner.
Remember what's up for grabs: A $50 Amazon gift card, infinite bragging rights, and 14.82 minutes of fame (including the option to be featured in follow-up blog/LinkedIn posts).
Vote for your favorite tagline by ranking the taglines below. We will notify the winner by email and announce the winner publicly on August 12, 2021.
Get those votes in! The deadline for voting is 5:00 pm ET on August 5, 2021.
We loved hearing from all of you! Thanks for the laughs!
Voting has ended. Come back on August 12 to find out who won!