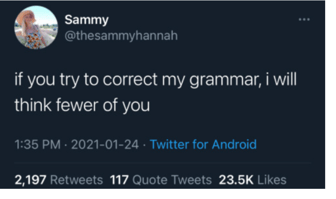 The Hottest Topics from the PRN Archives
You're a busy person. Like most people, you want value and convenience, and you want it 3.74 seconds before you thought about it. To that aim, we've gathered the Top 5 ProofreadNOW.com blog posts by view count over the past year. These are the topics our readers found the most helpful compiled into a single extremely convenient and bursting-with-grammatical-value list:
-Lay or lie
-Incidence versus incidents
-Regime versus regimen
-Beg the question
-Nonplussed
-Comprise versus compose
-Fewer and less
-Compare to and compare with
-Connote and denote
-Travesty
-Compelled
-Everyday versus every day
If you've puzzled over an unwieldy word or phrase, we've probably written about it. Don't shy away from that search box to the right. And if you can't find what you're looking for, let us know so we can write about it!
Those five were dinner; here's dessert. Try your luck with these fun quizzes (and if your luck is terrible, stick on our site longer to learn more from our blog posts and other resources).
Proud of your score? Embarrassed and want to share your shame? Post a comment below. We love talking shop with our readers.