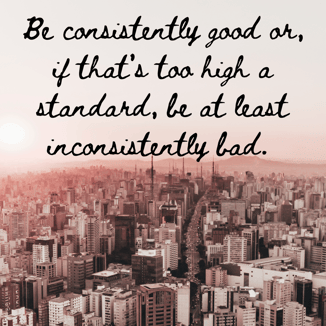 If you hadn't realized, the basis of this blog post is inconsistency in that we originally declared consistency a virtue and necessary component of excellent writing, and subsequently retracted that statement in the title, forward. Yes, we take it back…without remorse.
In earnest, we seek to gently qualify our original statement. Consistency is only helpful in certain contexts. It's easy to rely on what's natural while writing, but what's natural is really another word for "bad habits." Take, for example, this paragraph:
I ate my peanut butter sandwich slowly. I wiped my mouth with my napkin, paying extra attention to my upper cheeks. I always got peanut butter all over my face. I never knew why. I guessed it was because I had a tiny mouth and ate big sandwiches. I laughed at how much peanut butter was stuck to my cheeks.
See the issue? No, not the outrageous table manners or the rather silly topic. Every sentence begins with "I." I mentally shouted that sentence as I wrote it. I can't stand reading an entire paragraph of sentences that begin with the same word. I don't care whether the first word is one of my favorites ("guffaw") or most hated ("phlegm") — it's always terrible.
Oh no. I'm starting to do it. I think it's contagious.
The simple solution is to write like Yoda speaks. A particularly good piece of advice, I think this is. Welcome, you are.
A slight variation on habitual first word use is the overuse of "favorite" words. These are usually of the 25-cent variety. You know the type:
"They were ensconced in the restaurant booth." Three paragraphs later: "He ensconced himself in the phone booth, a relic of times past." Four pages later: "The frog, ensconced in a broken flowerpot, croaked morosely." Just six pages later: "'If someone posted such an unflattering picture of me on Instagram, I'd ensconce myself in my bedroom for life!' she declared vehemently."
First of all, the word "ensconce" has lost its resonance, and perhaps its entire meaning, for the rest of this story. Second of all, with a presumably hungry male, a phone booth, a frog, and a melodramatic female, what in the heck is this story about? Third of all, nothing. I only added that because "all," unlike "both," implies more than two entities. Lack of consistency is a real wrench, eh? Or was that consistency? The point stands (see Part 1).
A few years ago, I realized my own stumbling block: "chagrin." That word's a beauty, but it'll betray you by inserting itself over and over without your awareness. Before you know it, everyone is doing things with "chagrin." There is nothing else but "chagrin." You are chagrined by chagrin.
The answer is obvious. Look up synonyms of your favorite, overused words. Create a list of 5-10 and use them, in order, on repeat. A simple "find and replace" will suffice. "Chagrin" becomes "disgust." "Chagrin" becomes vexation. "Chagrin" becomes "mortification." Ignore context. It's a needless distraction.
Consistency in sentence length is a potential downfall as well. Take, for instance:
Our company is growing. We have big goals. This year will require hard work. But we can do it together. If you have questions, contact me. E-mail or text messaging is best.
Succinct language is effective; it doesn't beat around the bush or rely on flowery or inflated diction for success. But constantly truncated sentences risk the "caveman effect."
The solution: Write without concern. When you're finished, go through your document and insert periods and spaces, or filler words at random. This will ensure you have an even ratio of long and short sentences, to the delight of your more juvenile readers and chagrin of everyone else. Good golly. Forgive my hypocrisy.
To sum up our bad advice by completely restating it, check your writing for crutches in the form of repetitive:
First words in sentences

Favorite words

Everything else we can't adequately cover or even mention in a blog post. Do you see how I varied the length of these bullet points? Maybe I'm less of a hypocrite than I thought. Maybe I'm reinforcing my expertise on this subject with a stellar example. Maybe I'm building rapport with my audience. Maybe…I've gone off the deep end. (Find and replace "maybe" with "perhaps," "perchance," and "mayhap.")
To sum up some good advice that wasn't even given before: Focus on the patterns, methods, and aspects that give an air of quality and intelligibility to your writing. Don't ignore the habits that make your writing boring, silly, or stilted. We all have them, and we can all overcome them.
Be consistently good or, if that's too high a standard, be at least inconsistently bad. We're rooting for you. We're also a great back-up plan.
If you liked this post, you might love a visit to an oldie but goodie, How to Herd Cats Like a Pro.
#proofreading #writing #consistencyinwriting